Customer Reviews
10/31/2020
Annette P.
Singapore
Perfect! Bafun Uni Narabi Yellow
We tried Bafun Uni (Narabi Yellow) last night for birthday celebration. It was so perfect and amazing! It taste so damn good (the texture and umami taste afterward). We are overwhelming and we both love it so much :) I couldn't thanks Shiki SG enough for bringing such quality uni and making this service easily available for consumer like us. We really really enjoyed our meal last night :) A little sad that Suzumi Bafun Uni Narabi Premium could not secured auction in this same order. But we can't wait to receive it next available and so exciting about it. You have got yourself another regular customer now! We are going to stick to you from now on :) Love & appreciated Annette
07/02/2020
Christine W.
Singapore
06/27/2020
Siew K.
Singapore
06/27/2020
Sharon T.
Singapore
Sweet, Fresh, Delicious
Bought it for my partner's birthday celebration. It was well spend. Creamy, sweet, fresh and delicious! Well spend! We all love it!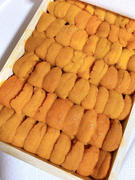 Dear Sharon, We hope you had an amazing birthday party, we hope to be able to provide even better ingredients for more birthdays to come! As a token of our appreciation, here is a discount code Specially for you to use on your next checkout! Discount Code: ThankYou4ReviewingShiki *You are entitled to 3% discount on your overall bill with purchases more than $100!* *The discount code is tagged on to the email you made your purchase from* Warmest Regards, Qx Shiki Sg Team
04/10/2020
Zachary C.
Singapore
Really Good
It was really fresh, more than I expected. The taste was as good as it get, the Same as you would find in a high end japanese restaurant.